Frequently Asked Questions
If you have any additional question please contact one of our locations and we can assist you further.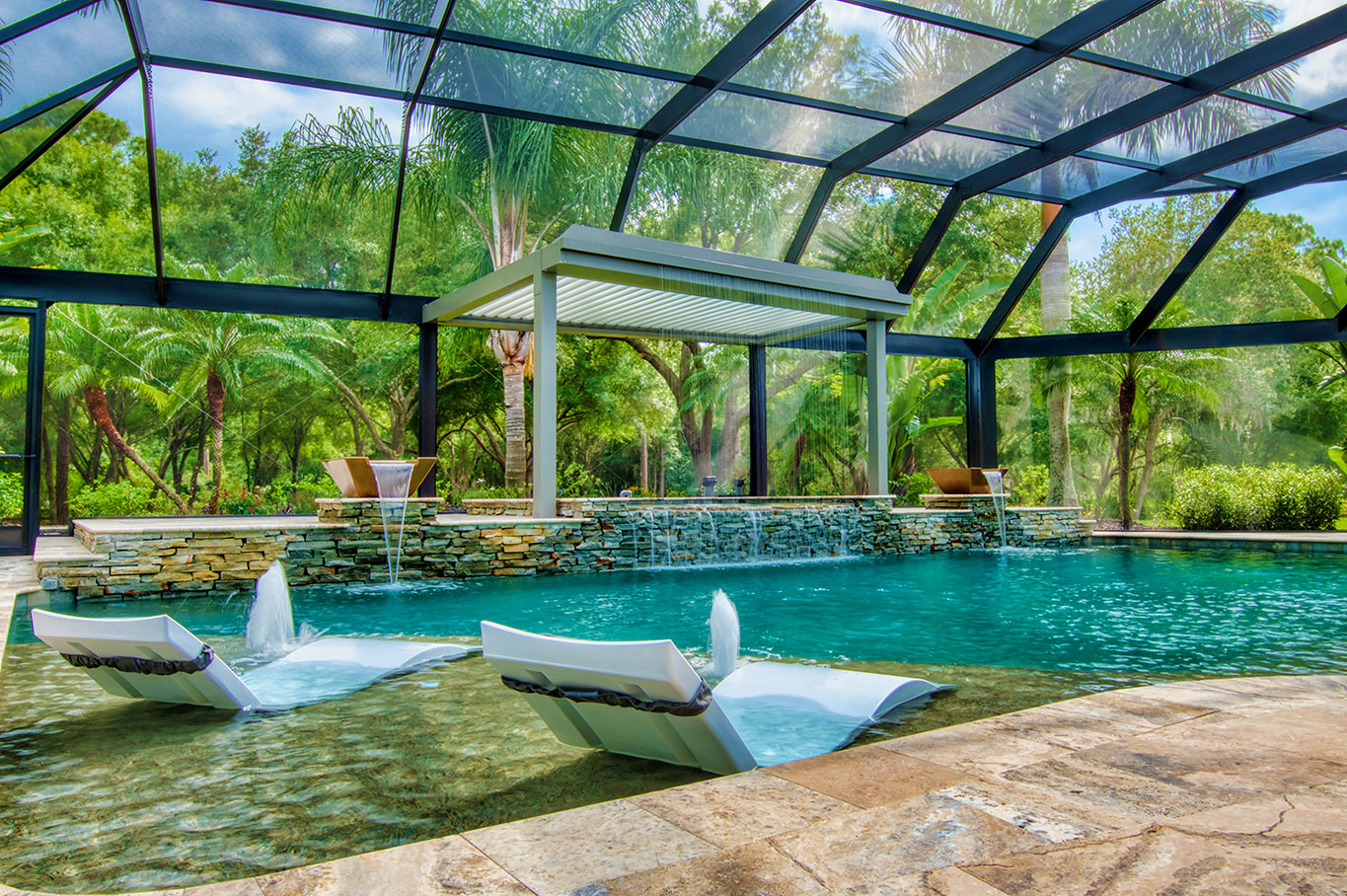 What criteria should I use when choosing a pool builder?
The best source of information would be the people who have used the builder for their own pool.
Ask the builder to provide you with a list of referrals, call the customers on the list and ask about their experience. 
If at all possible, visit pools built by the builder and see first-hand how the pool was designed, constructed, and maintained. 
Ask the builder as many questions as you want and make sure that you are satisfied with the answers and verify the answers with someone else.
You may also check with the Better Business Bureau to see if there have been complaints against the builder and if there was a response from the company to rectify any problems.
Check into how long the builder has been around and in business. Also ask family, friends and co-workers. 
You cannot receive warranty protection or services if the company you have chosen has gone out of business. 
Look for a company that has been well established in your community.
How do I get an appointment with a design consultant?
Call Our Office:
941-743-7171 (Charlotte, Sarasota, Manatee)
239-728-3002 (Lee & Collier)
Email Us: [email protected]
Stop by one of our locations: We are open Monday – Friday
Our design consultants are always willing to work around your schedule if those days aren't possible for you.
What information do I need to start the process of designing a new pool?
You will need to provide our design consultant with a survey of the property of where you plan to build your new pool. Other helpful information would be pictures or design ideas and any features you are wanting to include.
For example: Sun Shelf, Waterfall, special lighting.
Does my pool come with a warranty?
Yes, all of the Superior Pools come with a lifetime structural warranty.
The lifetime structural warranty means that we will guarantee that the gunite structure will hold water for as long as you live in your home. Lifetime shell warranty is not transferable and only good for the original pool buyer. Our Pebble finish comes with a limited lifetime warranty.
What makes us one of a kind here at Superior is that if you have a pebble warranty claim, and the manufacturer covers it Superior Pools covers the labor for free. 100% of the time manufacturer's warranties only cover the material.
Our pool equipment comes with a 3-year warranty.
You do not have to fill out the warranty cards Superior Pools takes care of all equipment warranty with the manufacturer.
What determines the price of a pool?
Every single house and property are different, so it's hard to compare pricing.
It cost Superior Pools 30% more to have 90% of in-house employees build our pools, But that is why we are #1 in the nation among the top 50 builders in customer service.
When comparing pool costs and companies make sure you consider the following elements:
How long have they been in business?
How long does it take them to build a pool?
Are their reviews real?
Do they call you back?
Are they Honest & upfront with you?
Reliability of the company?
Quality of the building materials/equipment?
Custom designing?
Craftsmanship/Durability of the pool and its aesthetics?
Warranty?
Ease of maintenance?
Customer satisfaction and service?
Do they advertise?
Do they care about you or just your money?
Are they Knowledgeable?
Do they have an office, showroom, pictures, and visuals?
Do they own equipment?
How many employees do they have?
Do they have a fulltime warranty staff?
Are there any hidden charges?
(The only way to check this is to visit or contact the companies' past customers.
You can get this information at any city office)
Why are they not on Guild Quality?
Anyone can say what it is they do but verify what they do!
This is why we pay Guild Quality to survey every one of our customers.
Do we offer in house financing?
No, we do not offer any in house financing.
However, if you go to the "Our Company" menu and click the "financing" page it will bring up companies that we recommend for financing options.
Just click on each company and it will take you directly to their websites for more information.
We do of course always recommend contacting your local bank to see if they offer anything to you as being a loyal member.
How long does it take to build a Swimming Pool in Florida?
If it was a perfect world with no issues and you had 40 in-house workers or  35 different sub-contractors, a normal swimming pool could be built in 20 days or less from an excavation.
Now, this is very rare because we do not live in a perfect world. There are so many different steps and variables in building a custom swimming pool.
Superior Pools of Port Charlotte Averages 35-45 days from the excavation.
We will always average these time frames. No matter how busy we get, even if we have to hire more employees, we will!
The difference with other companies is the busier they get, the longer it takes them to build a pool.
FYI The biggest myth in the pool business is "the pool builder will not finish your pool in less than 30 days because concrete has to cure."
When we choose to build a new pool who handles the permit process?
No, Superior Pools wants your beautiful investment to be as easy as possible for you. Our in-office permit and notary specialist will handle all your permit details from beginning to end.
Is there a better time of year to build a swimming pool?
The answer is No. We have in-house crews here at Superior Pools, this allows us to control the schedule and work easier around mother nature in the process of building any swimming pool.
What is the difference between Shotcrete and Gunite?
The major difference between Shotcrete and gunite is that Shotcrete is a "wet mix" and Gunite is "dry mix".
Shotcrete uses readily prepared concrete already and at the tip of the nozzle, it is introduced to compressed air that is used to impel the mixture onto the surface. Gunite is dry sand and cement mixed and shot through a hose by compressed air and at the very end at the nozzle, the mixture is introduced to water to hydrate the mixture right before it hits the surface.
Gunite is very common and the preferred choice in hot climates such as Florida.
That is one of the reasons why The NASA Launchpad in Cape Canaveral is made out of Gunite. The flexibility of Gunite allows a customer to customize their swimming pool to their specific taste and budget. Gunite pools are designed and built on-site which makes the design possibilities nearly endless. With the Gunite mixture and the steel frame, the shape of Gunite pools lasts over long periods of time.
Gunite pools in warm climates are highly durable and they can be built in any shape and form the customer desires. Gunite is one of the top choices for homeowners due to their beauty, versatility, and durability. Superior Pools uses Gunite for all of our pool shells constructed.
Will the pool add value to my home?
Absolutely! Real estate research shows that it will add about 75% of the value of the pool. You can increase that percentage with landscaping and other enhancements.
Your local real estate agent is not an appraiser or a bank. If you want to know the true number, verify it with a credible source.
I have a small, irregular shaped yard. Can I still have a pool?
Superior Pools designs custom pools based on your wants, needs and available space. Your property survey will show the area of your property where we can place the pool and still abide by the county guidelines. Our expert designers can work with almost any yard layout.
You may be surprised at how we are able to maximize space in creating your aquatic landscape!
I just want a basic pool, is that something Superior Pools can build for us?
Here at Superior Pools we customize every pool to our clients' needs and wants. Our initial consultation will show you visuals and educate you on just what a basic pool would be for you.
Is the cage included and if so, who installs them?
The screen enclosure is installed by Absolute Aluminum the #1 cage company in Florida (www.absolutealuminum.com).
We have been partnered with Absolute Aluminum since 2001 for all of our New Construction cages out of the Port Charlotte Location. Superior Pools is the only pool contractor Absolute will install for. They are considered a sub-contractor, but we use them on every job and do not just bid out the lowest priced cage.
Superior insists on ensuring that all of our customers receive the best quality materials and customer service.
I've heard about care-free pools. Is this true?
No! Every pool requires weekly chemicals and brushing. All pools require some regular maintenance to ensure that the water is always sparkling clear and water levels remain constant. However, the amount of time you spend can vary, depending on what options you choose when building a pool.
Other builders may cut corners in this aspect, and you may have to spend up to 2 hours per week to maintain your pool. At Superior Pools, we feel that is money well spent to use low maintenance equipment so that you can spend time enjoying your pool, not working on it! We also added a weekly pool cleaning service to our Port Charlotte location, so now you don't have to worry about your pool at all. We build it and clean it.
How long before we can swim after the pool is filled up?
Depending on the water source (well or city) after the pool is filled, you are swimming within 7-10 days.
How often should we brush our new swimming pool?
For the 1-2 months you want to brush the pool at least twice a day, after that you want to brush the pool at least 3 times a week.
How long is the startup process and when will we receive our pool school?
After the pool is filled it is at least a four-week process to get everything balanced and ready for the homeowner to take over should they chose so. Pool School will be scheduled upon completion of the startup process.
What is Start-up?
The startup is the term we use when talking about the initial balancing of your pool chemicals. Here at superior, this is a very detailed process. We will be with you and your pool for three weeks making sure that it is started and maintained properly. We use a robot brush in every one of our pools at startup. This process is very important for the longevity of your plaster. For the entire first year of your pool's life it is still curing, but for the first few weeks, it is critical that it is taken care of properly. We will be with you to make sure that that happens.
What is pool school?
Pool school is when we meet at the customer's house and sit down and go over all the chemicals and the process of maintaining the swimming pool on a weekly basis. We also go over how to use all of the pool equipment, remote systems and how to program and use everything.
When is salt added?
The salt is added on the third week after the pool is filled. With darker finishes, we might wait an extra week or so just to ensure the material is ready and cured enough for the salt to be added.
You do not need to do anything with a salt pool correct?
No, you still have to do everything you would to maintain a chlorine pool. The only difference is that you are not dumping in chlorine every week only 2-4 bags a year!
Do I need to fill out and send in the warranty information for my pool equipment?
No, Superior Pools deals directly with Pentair on all equipment warranties. This includes reporting the failed piece, replacing and returning the failed equipment. Pentair offers a 3-year warranty on all pool equipment.
Will my pool overflow during rainy season?
No, it will not. We install a gravity-fed overflow system so that when the water rises above the waterline the water flows out of the pool into the yard.
Once chemicals are added, how long should we wait before swimming?
This all depends on how many and what chemicals have been added. After any amount of chemicals are added to your pool you should always wait at least 30-45 minutes to enter the pool. Our tech will always advise appropriate wait times.
How many hours should my pump run?
During the wintertime you want the pump to run 8-10 hours at the hottest part of the day.
During the summer you want the pump to run 10-12 hours during the hottest part of the day.
You never want to run the pool overnight and allow the water to sit and get stagnant during the day!
Can Superior Pools convert my chlorine pool into a salt water pool? If so what is the process?
Yes, we can! Our Supervisors of Service/Warranty Josh Kline and Patrick Kline are certified and experienced to answer all your detailed questions.
Josh Kline's Explanation of converting:
Yes, any pool can be converted to a salt pool. Pentair is the main brand that we use and install for our pool equipment. We first will cut out your existing chlorinator and install the salt cell. We will then install the power center which hooks up to your existing timer and then the salt cell cord hooks up to the power center in order to get its power. We also include adding salt to your pool to get it to the correct ppm. (Parts per million) We will then schedule a pool school in which we go over how to use the salt system, add salt and how to check and clean the salt cell.
Does your Fort Myers location do remodels?
Unfortunately at this time, our Fort Myers location does not handle remodels.
Our Charlotte County location does! Superior Pools wants to be very accommodating to help suit all your wants and needs and any questions you have regarding your remodel. (Whether we are in your area or not)
We have design consultants who specialize in remodels and resurfacing.
Superior wants to make sure you are in the best hands getting the most accurate information on your to remodel process. Please contact our Port Charlotte location for more information on areas of interest for Remodels and Resurfacing.
Do I have to be home during the construction process?
No, you do not have to be home at the time of build with a few exceptions (see below). A third of the pools we build is when the homeowners are away.
Of course, we would love for you to be present so you can see how hard our employees work and how full of pride all of our crews are.
You will need to be home or provide access to the home 3 times during the construction process.
Electrical Installation
Installation of alarms
Final electrical and safety inspection
Your Designer who is with you from start to finish will give you as much advance notice as possible to work around your schedule.
What is the benefit of having in-house labor?
The biggest benefit is the consistent Superior quality that you will receive! Most of our field employees have been with us for years and our head guys have been with us for over 14 years! They take pride in what they do and you can be assured that if there is a mistake it will be fixed right away. We do not have to wait for a sub-contractor's schedule to allow time to come back and fix any issue. Another great benefit is the speed and efficiency in which we can complete the jobs. This comes from being in control of our crew's schedules and having the ability to do what we say we will when we say we will.
Why is it important to have a design consultant that is with us through the entire build?
Here at Superior you will have a knowledgeable design consultant that will assist you with making your backyard dream come true. They will not only help with the design but will also be your main point of contact through your entire build and after you are swimming.
Why is it important to use the best quality products available?
It is very important to use the best quality products available to build a pool with longevity. Also the best quality products come with the best warranties and will cost you the least in repairs and operating costs.
Is a variable speed pump necessary?
No a variable speed pump is not necessary but it is the best option for your pool. By using a variable speed pump you will have complete control of you RPM selection which will allow you to use your pump much more efficiently and save you money in operating costs. They will also last much longer due to less wear on the motor.
Why would I want a sump system under the shell of my pool?
A sump system under your pool is used during the build process to keep the hydrostatic pressure from building up on your waterless shell. It is also important for you in the event that you ever needed to drain your pool down you can hook up to it to pump out the water from under the shell to keep your shell from popping.
Do you offer pebble-tec?
We offer a pebble finish standard in our pools. We do not use pebble-tec. We have our own plaster crew that installs the pebble finish in your pool.
What is Start-up?
The startup is the term we use when talking about the initial balancing of your pool chemicals. Here at superior, this is a very detailed process. We will be with you and your pool for three weeks making sure that it is started and maintained properly. We use a robot brush in every one of our pools at startup. This process is very important for the longevity of your plaster. For the entire first year of your pool's life it is still curing, but for the first few weeks, it is critical that it is taken care of properly. We will be with you to make sure that that happens.
Any more questions?
Please contact our office at:
[email protected]

Service Areas
Port Charlotte
(Serving Manatee To Charlotte County)
517 Tamiami Trail
Port Charlotte, FL 33953
(941-743-7171)
[email protected]
Fort Myers
(Serving Lee County To Collier County)
12221 Towne Lake Dr Suite #B
Fort Myers, FL 33913
(239-728-3002)
[email protected]
Our Certified Pool/Spa Contractors
License # CPC-1459983