25 Construction Steps The Superior Way!
Below you will find 25 brief outline steps on how to build a quality swimming pool in a timely fashion.
When building any swimming pool there are over 500 steps and variables. BUYER BEWARE!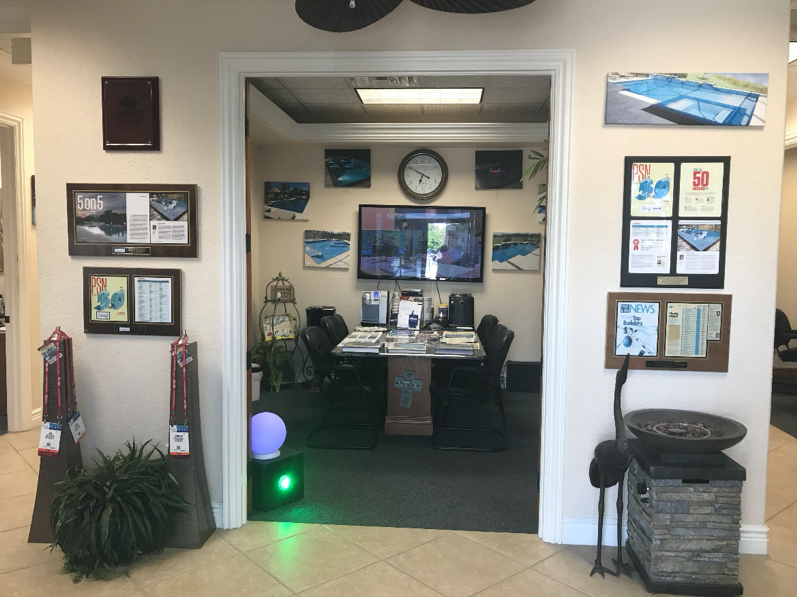 Step 1 – Initial Consultation
During the initial consultation, you and your Superior design consultant will discuss the options and features available for your backyard oasis. You will be shown various photos, slide shows, videos, samples, and pools during construction and after completion in order to give you a full understanding of what the finished product will look like. They will also give you step by step knowledge regarding our procedures and products.
Please bring a survey/site plan of your property to speed up the process.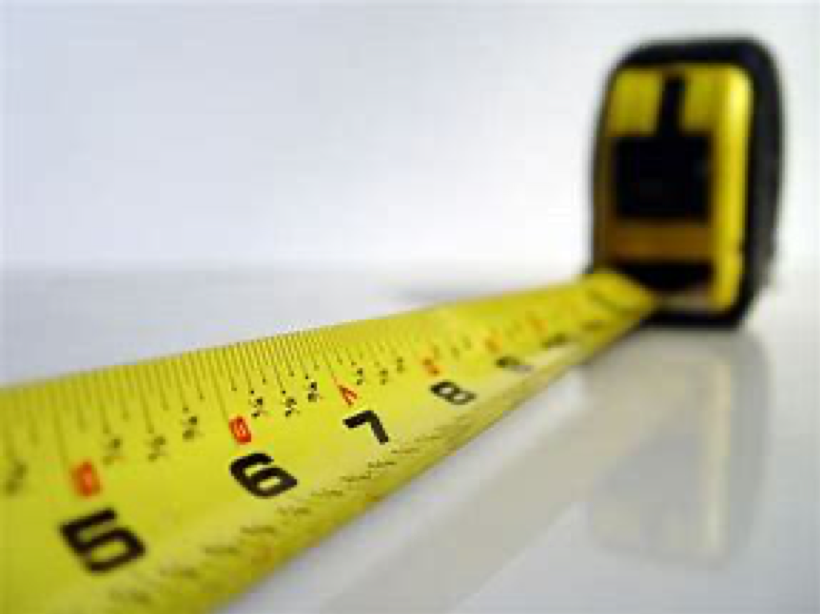 Step 2 – Site Visit
A site assessment of your property will be done by your design consultant. They will come out to your property in order to take pictures and measurements necessary for completing your 3D design. During this assessment, they will determine where the equipment will be located, how we will access the backyard with our equipment and if there is anything in the way of construction.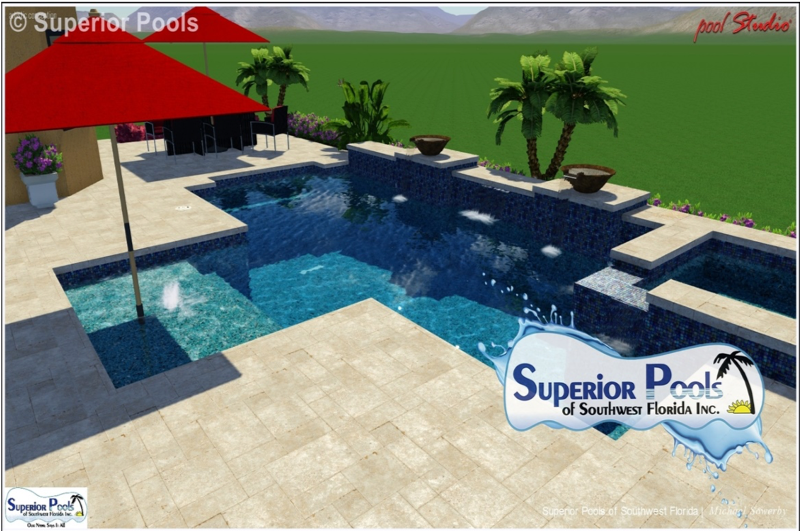 Step 3 – 3D Design
Using the information you provided during your initial meeting along with the pictures and measurements of your property, your design consultant will put together a detailed computerized rendering of your dream pool using the latest 3D technology.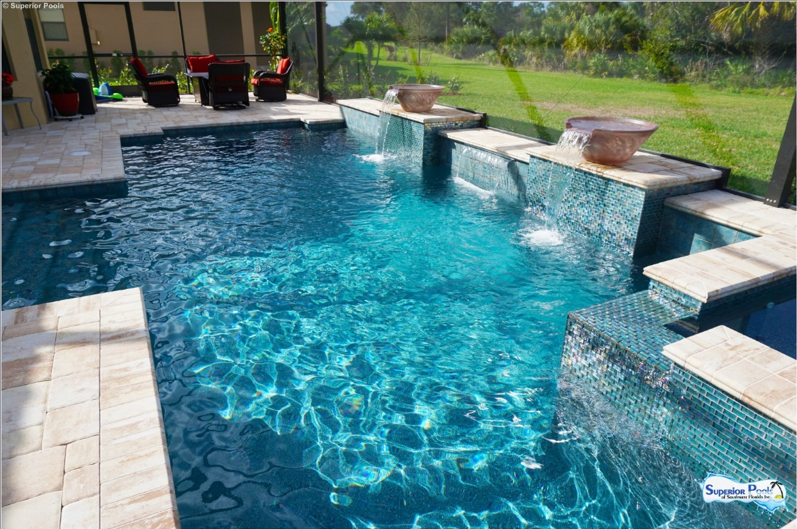 Step 4 – Meet & Review Your Design and Quote
Once you are completely satisfied with the design of your backyard oasis, an accurate quote will be put together. At this time, your design consultant will set up an appointment to go over the quote details with you.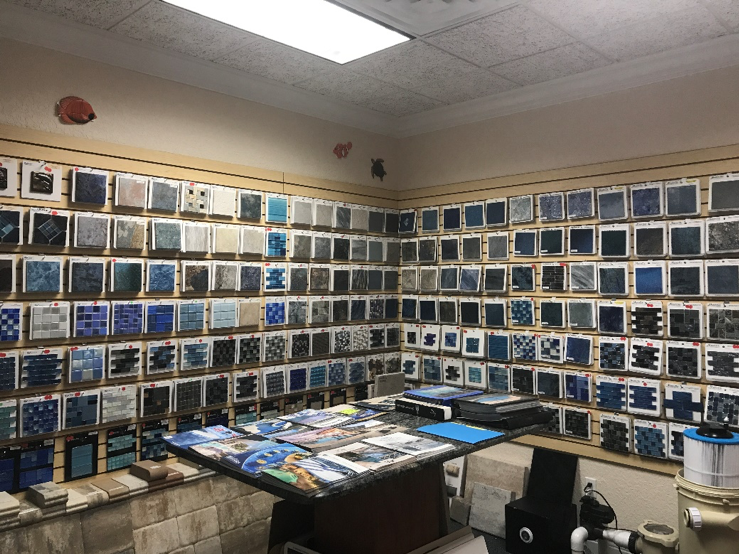 Step 5 – Sign & Pick Colors
After all the details and numbers have been discussed, it is time to sign the agreement, permit paperwork, and pick colors/materials for your new Superior Pool! Your designer will assist you with your color selections and paperwork.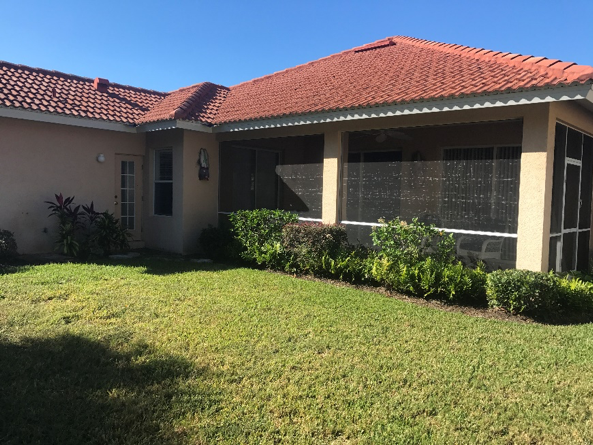 Step 6 – Permitting
Superior handles the permitting for you! Your permit paperwork is submitted to the County office for permit review.
During this time, it is the responsibility of the homeowner to submit any documentation necessary to their homeowner's association for approval.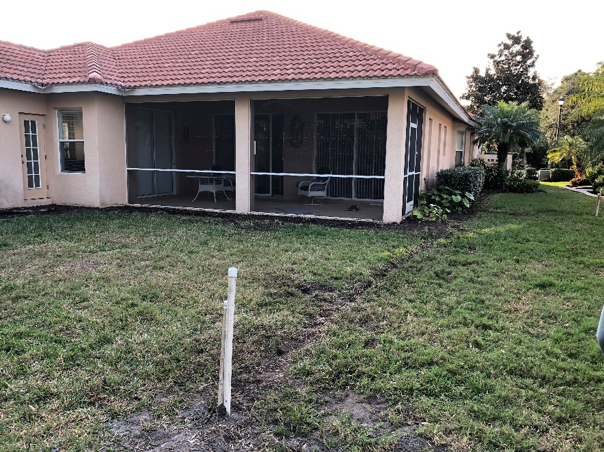 Step 7 – Irrigation and Landscaping
Prior to the start of construction, it is your responsibility to have your irrigation capped, all landscaping removed or relocated, and any other items in the way of the pool moved. We suggest having your irrigation capped immediately after signing your pool agreement. If for any reason these items are not taken care of prior to permitting approval, Superior Pools will not start the build until they have the proper clearance on the property.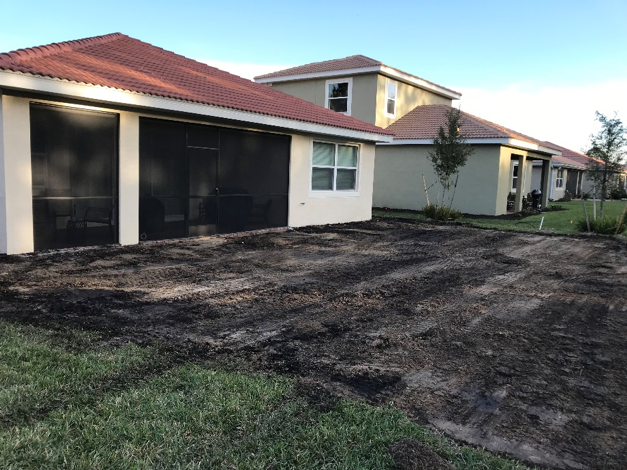 Step 8 – Pre-site/Sod Removal
One of our Superior construction managers will come out and pre-site your property. The existing sod will be scraped off from the proposed pool area and hauled away. This process is done to ensure we have true elevations.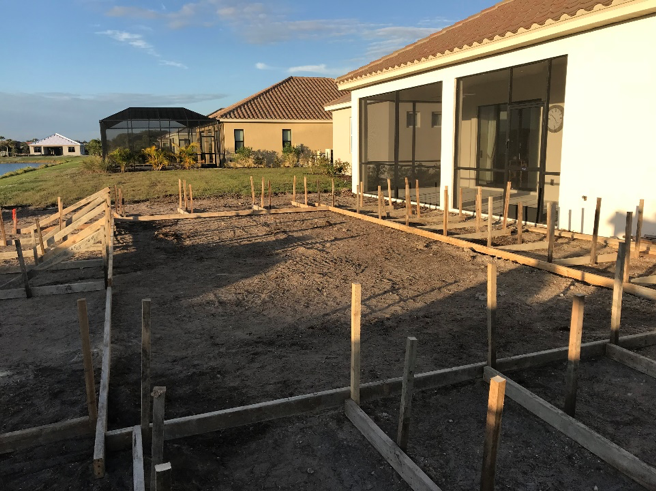 Step 9 – Pool Layout
Our in-house layout crew will layout the perimeter of your pool with stakes, wood forms, and string lines. This step is done in preparation for digging the pool. It is very important and must be done accurately which is why Superior uses our own employees in order to ensure accuracy.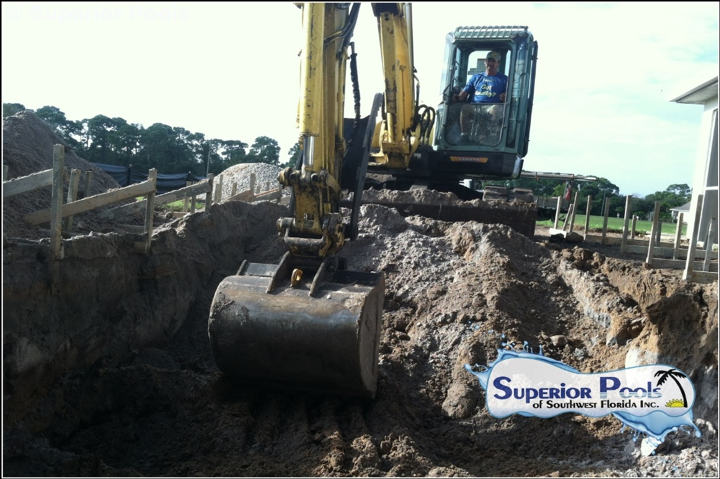 Step 10 – Dig
Once the pool is staked out, our crew will begin digging your new pool. Our standard pools are 3' – 5' deep. A pool that is 5' at its deepest point will be dug to approximately 6' 6" in order to properly stabilize the shell, install your sump system line, and fit your channel drain correctly. Properly stabilizing the shell and installing a sump line is essential.
In Florida, we are surrounded by water. Groundwater can cause issues with your new pool if it is not handled correctly. When choosing a pool builder to be sure to ask if they take these precautionary steps and ask them what the benefits are.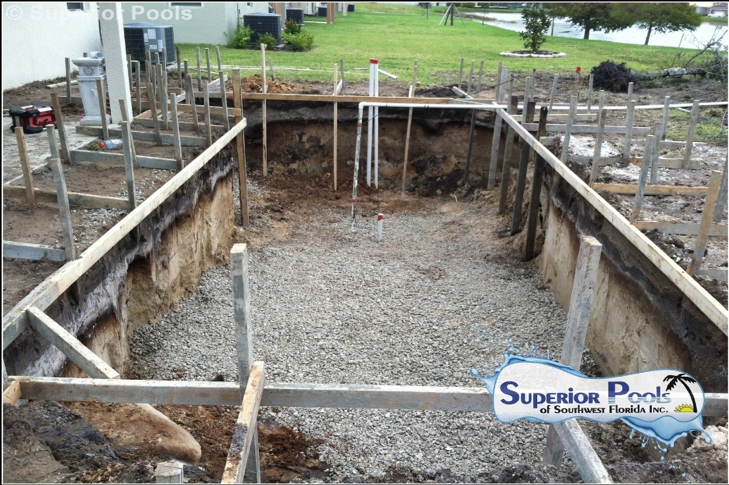 Step 11 – Form
This is when the elevation of your new pool is set. The step is very important and will affect every step along the way if done incorrectly. Superior Pool's in-house crew will be onsite with their lasers triple checking everything to make sure the elevation is set properly and is level. Stabilization rock will also be installed during this step.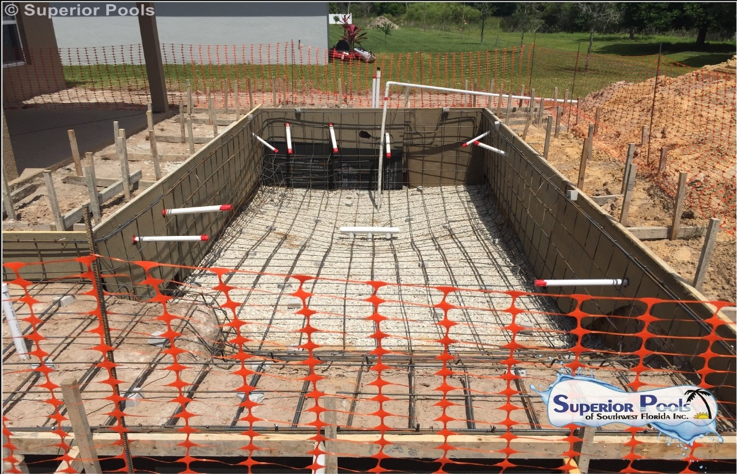 Step 12 – Steel
Our in-house crew preforms this step as well. They will form and lay #5 rebar every 1' on center throughout your entire pool form. You will also see them begin to pre-plumb.
Step 13 – Shell
At this step, you will really start to see the pool take shape. The Gunite concrete is shot through a high-pressure hose for structural strength. Gunite is a concrete blend of sand, cement, and water. It becomes rock hard, forming a thick, solid structure. Keep in mind this is the rough structure of your pool and will be finished off with plaster later in the process. The shell will cure as we do the finished work around the pool.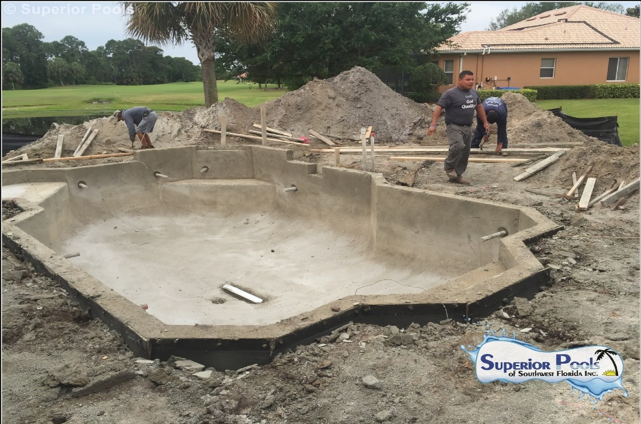 Step 14 – Strip Shell
All form boards are removed and prep for plumbing is started.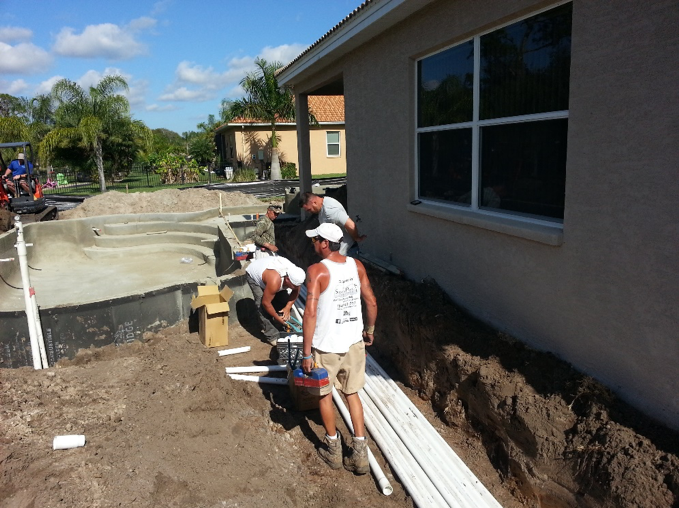 Step 15 – Plumbing
Our Superior in-house install team will plumb each job to our Superior standards. A special TDH engineering is customized for every job. Pipe diameters are determined by calculating flow rates based on water demand including pumps, filters, and water features. Superior uses a minimum of 2" schedule 40 PVC non-corrosive piping. We dig the plumbing trenches with our mini excavator. We are sure to dig at least 3' down so your plumbing is protected. The pipes run from your new pool to your new pool equipment and are pressurized to be sure there are no leaks and to pass county inspections.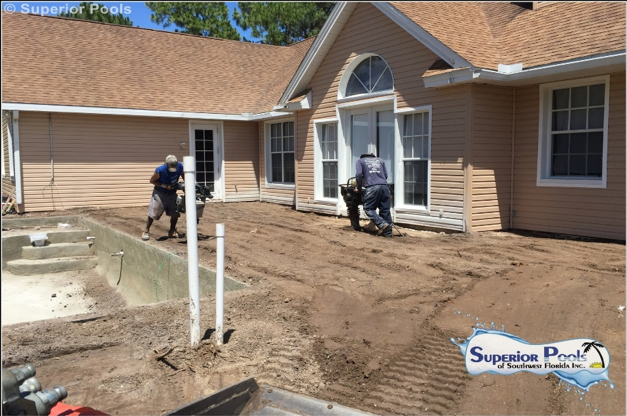 Step 16 – Backfill & Compact
Once the plumbing is complete, the dirt is backfilled into the trenches to cover any exposed pipes. The soil is then compacted using a heavy jumping jack tamper. The soil must be compacted properly to minimize shifting and settlement issues with your new deck.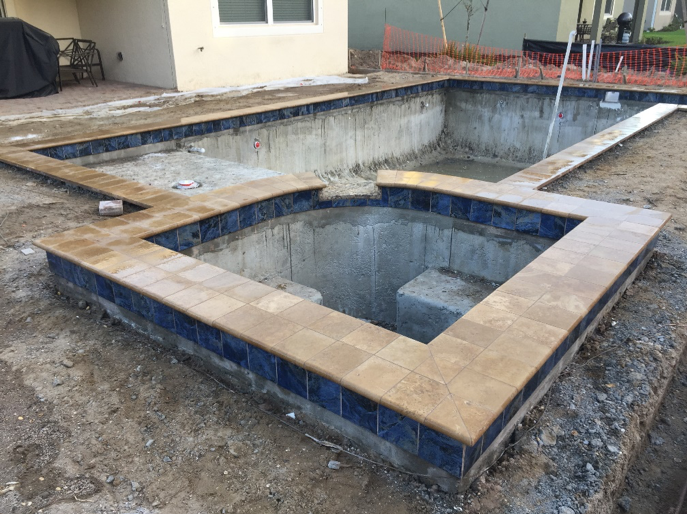 Step 17 – Tile & Coping
This step is where the artistry comes in. Our in house crew will start by checking if your shell is completely level and will mud up any areas that may need it to ensure accuracy. Water doesn't lie so ensuring that everything is level is vital. Each piece of coping and tile will be cut and set individually to ensure there are no feathered grout joints. Deco tiles and designs are added based on your color selections.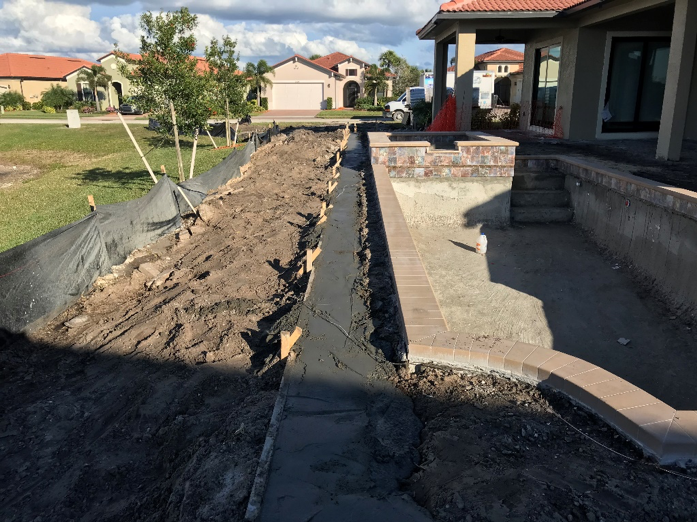 Step 18 – Footer
Footings are excavated on the perimeter of the deck to code enforced depths and require specific rebar steel. A code required termite spray is applied to the foundation.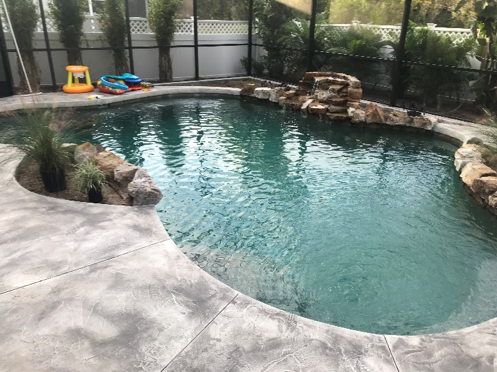 Step 19 – Decking options (Concrete, Pavers, & Travertine)
We have multiple decking options to choose from. Be sure to ask your design consultant about the materials we offer and the pros and cons of each in order to help you make the best decision for your backyard oasis. Below are some examples of some of the decking types available. Regardless of the deck type you choose, a 2" deco drain is installed between the deck and house for drainage purposes.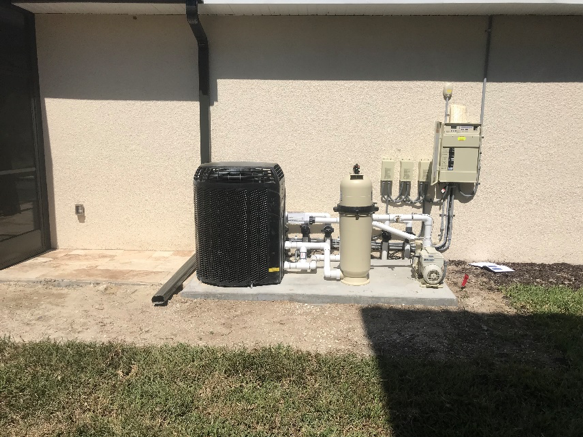 Step 20 – Pool Equipment
Your new pool equipment will be set on an 8' x 4' concrete pad. The pad is oversized to leave enough room for a heat pump whether you install one right away or in the future. All of our equipment is labeled for your convenience. Proper placement for your equipment will be determined by you and your designer.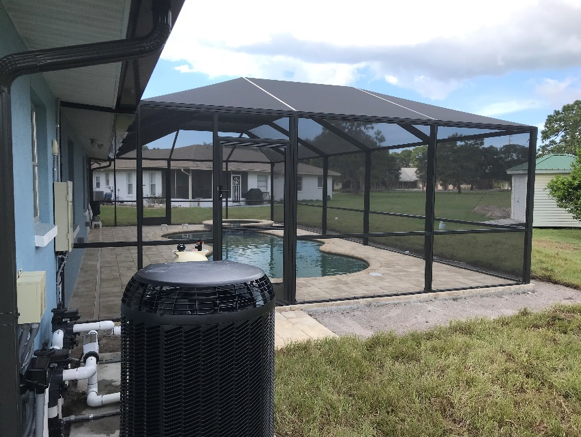 Step 21 – Screen Enclosure
Superior Pools has an exclusive partnership with Absolute Aluminum for all of our screen enclosures. Be sure to look them up at www.absolutealuminum.com. The screen enclosure is pre-cut at the factory and delivered in pieces to the job site. It is then assembled using screws to attach it to the deck and walls of the house. A super gutter is also installed on the roof fascia and enclosure in order to capture water and debris. The cage is a mansard style enclosure. Your choice of 2 color options (bronze or white)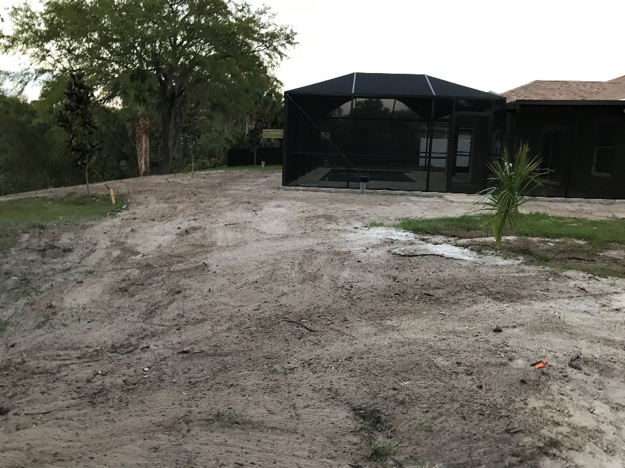 Step 22 – Final Grade
Superior does a one-time grade and rake of the site and access area. The grade is done to county drainage standards. It is the homeowner's responsibility to have the yard sodded in order to pass the final inspection.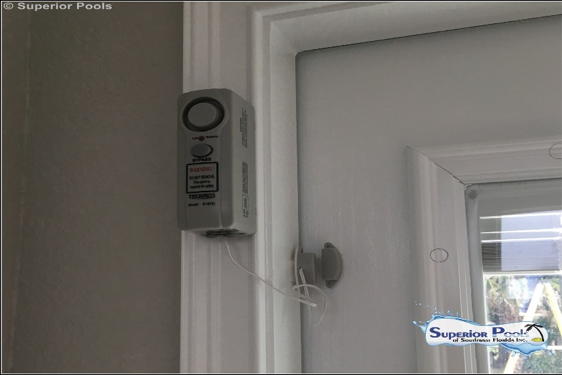 Step 23 – Safety Features
State code requires installation of either battery-operated alarms or safety fence. Superior Pools takes responsibility to make sure the safety device you choose is installed properly and passes county inspection. The alarms need to be on all doors and windows exiting from the home to the enclosed pool area or a safety fence can be installed. An inspection by the county is required at this time.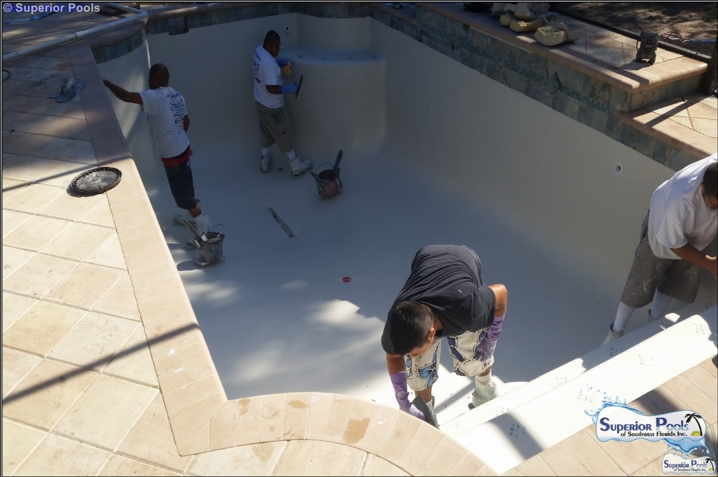 Step 24 – Interior Surface
The pool shell is chemically treated, prepped with a waterproofing agent, and cleaned prior to installation of the interior finish. Your step diamonds, step markers, and any mosaics are installed during this step. Our #1 Superior Pools Plaster crew hand trowels the finish to the pool shell. Superior offers various color options of Stone Scapes Pebble finishes as our standard finish. You also have the option to upgrade your interior to a polished finish if that suits your needs. Both options come with a limited lifetime warranty that we back the labor on. Your design consultant will help you choose the color and material from one of the many offered in our showroom.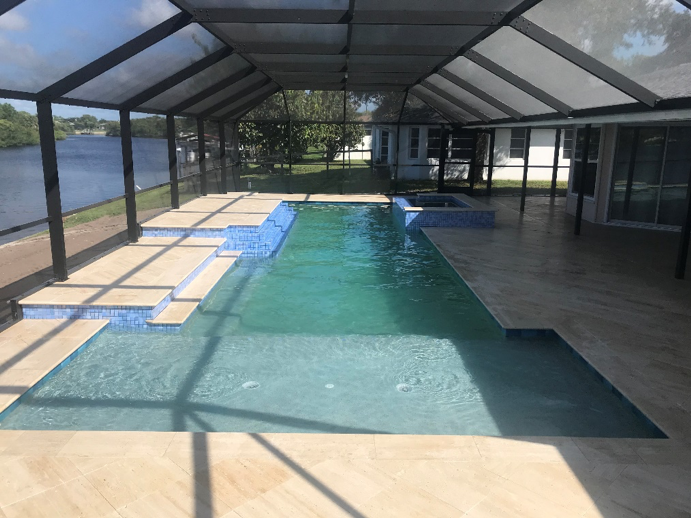 Step 25 – Pool Fill &Start Up
Your new pool will be filled using your garden hose directly from your house or well immediately after the acid wash of the interior finish has been completed. City sewer customers will receive a sewage credit to submit to the water department in order to receive credit on their next bill. A typical pool takes 24 – 30 hours to fill. It is normal for your water to look green for the first few days.
Superior Pools has full-time startup employees who will do a "soft start-up". They will care for the pool for a period of approximately 30 days. Certain chemicals will be added in order to balance the water. Once the pool is ready for salt, our crew will add the initial salt needed to turn your pool over to a saltwater pool.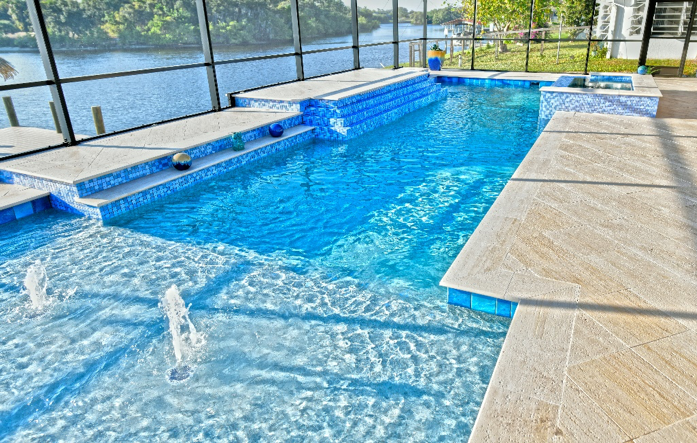 Step 26 – Pool School
Now it is time to teach you how to care for and maintain your beautiful new pool. A member of our service staff will schedule an appointment with you at your property to explain the process of operating your Superior Pool. They will also bring out your instructions on CD and maintenance kit (pole, brush, and skimmer net) which are included in your pool purchase.